Photo shows the former presidential candidate reading an article about the vice-president using private email to discuss sensitive matters as Indiana governor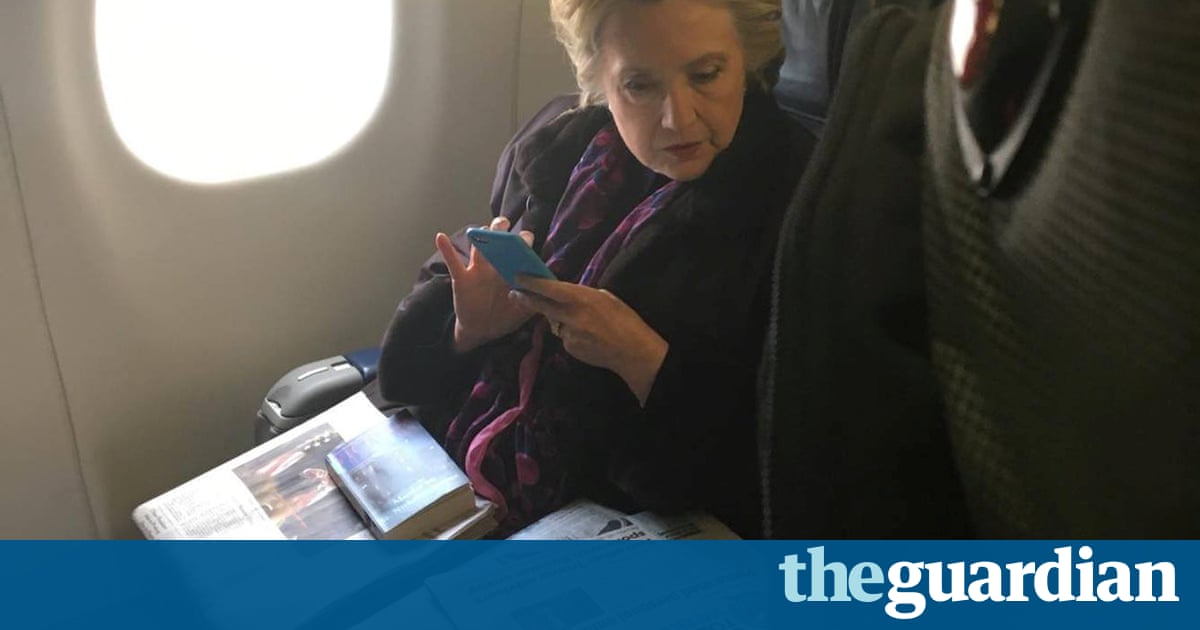 A photograph of former presidential candidate Hillary Clinton looking at a newspaper headline about vice-president Mike Pence using private email has gone viral on social media, with thousands of people commenting on it.
On Friday, Clinton was on a plane traveling from Boston to New York when a fellow passenger snapped a photo of her glancing down at the USA Today front page headline: Pence used personal email in office.
Pence and others involved in the Republican presidential campaign last year criticized Clintons use of a private email server during her time as secretary of state.
Donald Trump and his running mate regularly said Clinton broke the law and endangered national security, complaints that led supporters at rallies to chant Lock her up!
Trump also threatened to send Clinton to jail if he won, a threat he has subsequently dropped.
Despite reports that other government figures including Obama administration defense secretary Ash Carter and Bush secretary of state Colin Powell had used private email while in office, the state departments internal watchdog said Clinton had broken department rules.
The FBI reviewed her emails for classified material. Though its director, James Comey, said last July Clinton had been extremely careless, the bureau found no criminal charges were warranted.
After the election, Clinton reportedly said she blamed two public statements by Comey for her surprise defeat by Trump.
Comey wrote to Congress 11 days before the election, to say new emails had been discovered on a laptop connected to Clinton aide Huma Abedin that could be relevant to the closed investigation.
Two days before the 8 November vote, Comey said no new evidence had been uncovered from the newly discovered emails.
Read more: http://www.theguardian.com/us