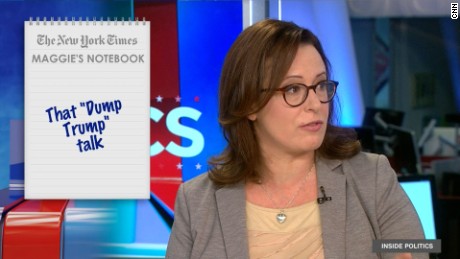 New York (CNN)Hillary Clinton goes after those Trump neckties. Donald Trump's in a New York state of mind. And all eyes are on data and the ground game.
Our reporters explore all this and more in this week's "Inside Politics" forecast, where you get tomorrow's headlines today.
1) Clinton's slams Trump's business record
Donald Trump wears many labels: real estate mogul, reality show star and now, Republican presidential nominee. So how does an opponent take on Trump when his appeal goes beyond politics?
The Clinton campaign may have an answer.
New York Times' Maggie Haberman says look no further than 1996 to read the 2016 tea leaves:
"Everybody talks about the Bob Dole year, 1996 … Bob Dole was a different case. He was friends with the then-RNC chairman, Haley Barbour and he himself was a senator. He had a different view of this…. That is not what you're going to see this time, if you see it.
"The RNC is also still pretty dependent on Donald Trump, in terms of fund-raising. And it is not clear exactly how that will work out once there is a split. The resources are linked together in a different way than they were in that year when there was still soft money."
Originally found athttp://edition.cnn.com/